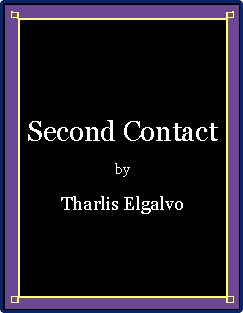 Second Contact (eBook science fantasy novel)
The Iskandran Badgers finally have a diplomat for humanity, eighty-one years after first contact. Will the new treaty between Terra and the Iskandran Badgers survive?
Adobe Acrobat Reader price: $7.99 Buy Now > >
An excerpt:
---
John Marxx woke up to the sound of a ship alarm. As he woke up, he heard, "Triple neutron star lock attained. Scan for Iskandran craft has failed: they're not here yet."
John Marxx got up, hoping that the clocks had been synchronized correctly – and that they had the right three neutron stars. One year, the Slav Econzone had got one of them wrong. The Iskandrans showed up anyway, and didn't bother to mention the error until three days into the annual negotiations.
After a quick shower, John Marxx chose a deep emerald green business suit. Not that any of them looked fashionable to him, but the Iskandrans seemed to favor bright colors or intense hues – and apparently used clothing as a visual id aid.
John took out the cumulative dossier. He deliberately imagined he was at Old Faithful in the United States' Yellowstone National Park, only a half-hour from the border crossing between Scientia and the United States at the Nevada-Wyoming border. After using this visualization to prepare to concentrate, John started to review the cumulative dossier. This was the eighty-first annual discussion on starting formal diplomatic relations with the Iskandran Badgers. Historically, they had spent eight clocked hours or so reviewing the current negotiating committees, and the current status of previously agreed-on points and points still under disagreement.
The fifty-sixth annual negotiations had caught the Badgers independently tracking the opinions of each of the factions. Afrikaan had a different interpretation of freedom to evangelize by literature than the West. The West was the negotiator that time. The Badgers had been evincing their usual non-comprehension of the cultural contamination risks when the United Planets data auditor Chai O'Klein walked into view. They had seen Chai O'Klein on the Afrikaan delegation in the fifty-fourth annual negotiations.
The response of the mid-ranked Badger Tzaiklan was shocking:
...
---
Published: Jan. 2007
Page count: 58 8"x11" pages
File size: ~478K
---
Purchase the full eBook novel for U.S.$7.99, as an Adobe Acrobat PDF document. Your satisfaction is guaranteed; see our customer service policy for details.
---
Opinions, comments, criticism, etc.? Let me know about it.

Return to the Zaimoni.com bookstore, the Iskandria page, or the main page.